Practice does not make perfect. Only perfect practice makes perfect.



Hearing the Music, Honing the Mind
An interesting article from Scientific American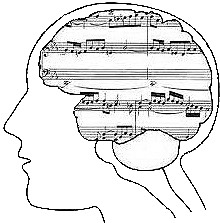 How playing an instrument benefits your brain
A TED Ed video from YouTube about how playing a musical instrument effects your brain and learning.  Very interesting short video.  Parents, Teachers and all band students should watch this.
Some thoughts when practicing your instrument at home
Students and their parents can takes certain steps towards increasing the effectiveness of a student's practice routine. Those steps include, but are not limited to, the following:
Take your instrument home each day.
Schedule a regular time or set of times to practice each day.
A Practice Area should be in a quiet location, free from distractions. Good lighting and adequate ventilation is a must.
Students will need some sort of music stand to ensure proper playing posture.
Students should sit up straight on a hard chair while practicing.
The instrument must be in first rate, working condition. The higher the quality of the instrument and mouthpiece, the higher the possibility of sound, and the easier it is for the student to play!
Help motivate your child towards practicing. Remind the student that practicing must be done even when they don't want to. You make them brush their teeth when they may not want to; proper practice should be viewed in a similar way.
Praise work well done. A congratulatory remark can be made while the student is practicing, or later, such as during meals.
Avoid non-constructive criticism. Practicing, in its very essence, is repeatedly playing something that you may not do well yet. Many students will feel uncomfortable playing "poorly" in front of parents or siblings, especially if they are musicians as well. But this is a necessary step towards improvement.
Plan activities ahead. Remember that a student's participation in rehearsals and performances is not only required, but a very necessary part of the success of the ensemble. A band is a team, and as such, each individual's contribution towards the success of the whole ensemble is vital, necessary, and important.
Take private lessons to help you achieve your musical goals sooner and to help you gain more enjoyment from playing your instrument.
Wynton's Twelve Ways to Practice
Read Wynton Marsalis' 12 Ways to Practice here.
These steps will work for almost every activity - from music to schoolwork to sports. Practice is essential!
A word or two about taking Private Music Lessons
Why Take Private Lessons?
Time and time again studies have proven that involvment with music improves a student's ability to learn and comprehend all subjects. We firmly believe that with a solid background in music, students will achieve greater success in school and in life.
While our local public schools provide outstanding music programs, students can only gain so much from class environments. Private one-on-one lessons increase students' progress exponentially and gives them a greater sense of success and pride in their talent.  Private teachers also are specialists on your child's instrument, thus giving them the ability to truly focus on your child's individual needs as an instrumentalist.
To see a very extensive list of local private music teachers please click Private Instructors in the main menu bar.

🎶 The Do - Re - Me Project
The Do - Re - Me Project is a national youth-run 501(c)(3) nonprofit organization dedicated to making music education more accessible and providing high school musicians with volunteer opportunities online. Founded in February 2020. Our Mission is to  provide free online music support for elementary and middle school students who may not have transportation to a lesson, may not be able to afford a lesson, or would like to try out tutoring before committing to a private teacher.   (FYI - this organization was founded by Howard County High School Music Students).
Learn more at their home page by clicking the link: The Do-Re-Me Project 
There is no ability like dependability

-Dr. Scott Nelson - Shenandoah Conservatory